This Cat Cave Bed Is On
Every Cat Owner's 2023 Wishlist 🎉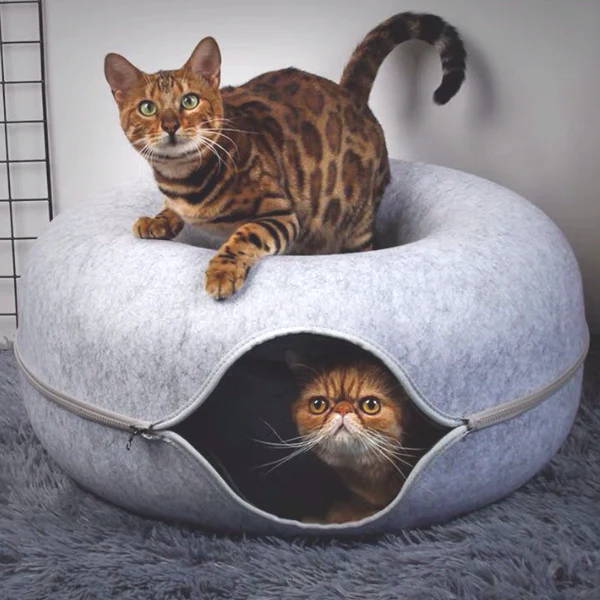 The Comfiest & Coziest
Cat Cave Ever

Introducing the Cozy Cat Cave Bed - the ultimate sanctuaryfor your furry friend! With its soft and plush interior, it offers a cozy andpeaceful environment for your cat to relax and unwind, reducing anxiety andstress while promoting restful sleep. This is especially beneficial for easilystartled cats, giving both you and your pet peace of mind.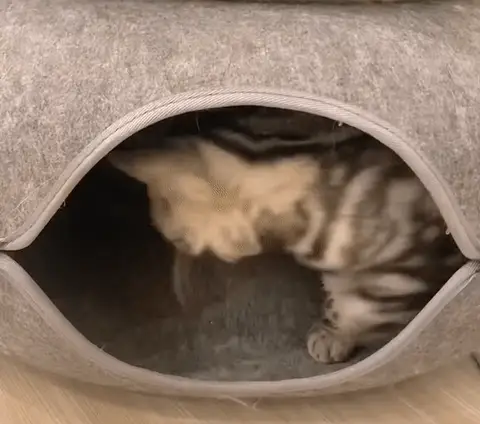 Great Entertainment For Both You & Your Cat
Don't let boredom harm your furry friend's health and happiness. The Cozy Cat Cave Bed offers plenty of space for two adult cats to play, making it the perfect toy for cats of all ages. By encouraging physical activity and mental stimulation, this tunnel bed can help prevent destructive behavior and promote overall wellbeing. And as a cat owner, you can enjoy watching your feline friends have a blast in their new favorite play spot!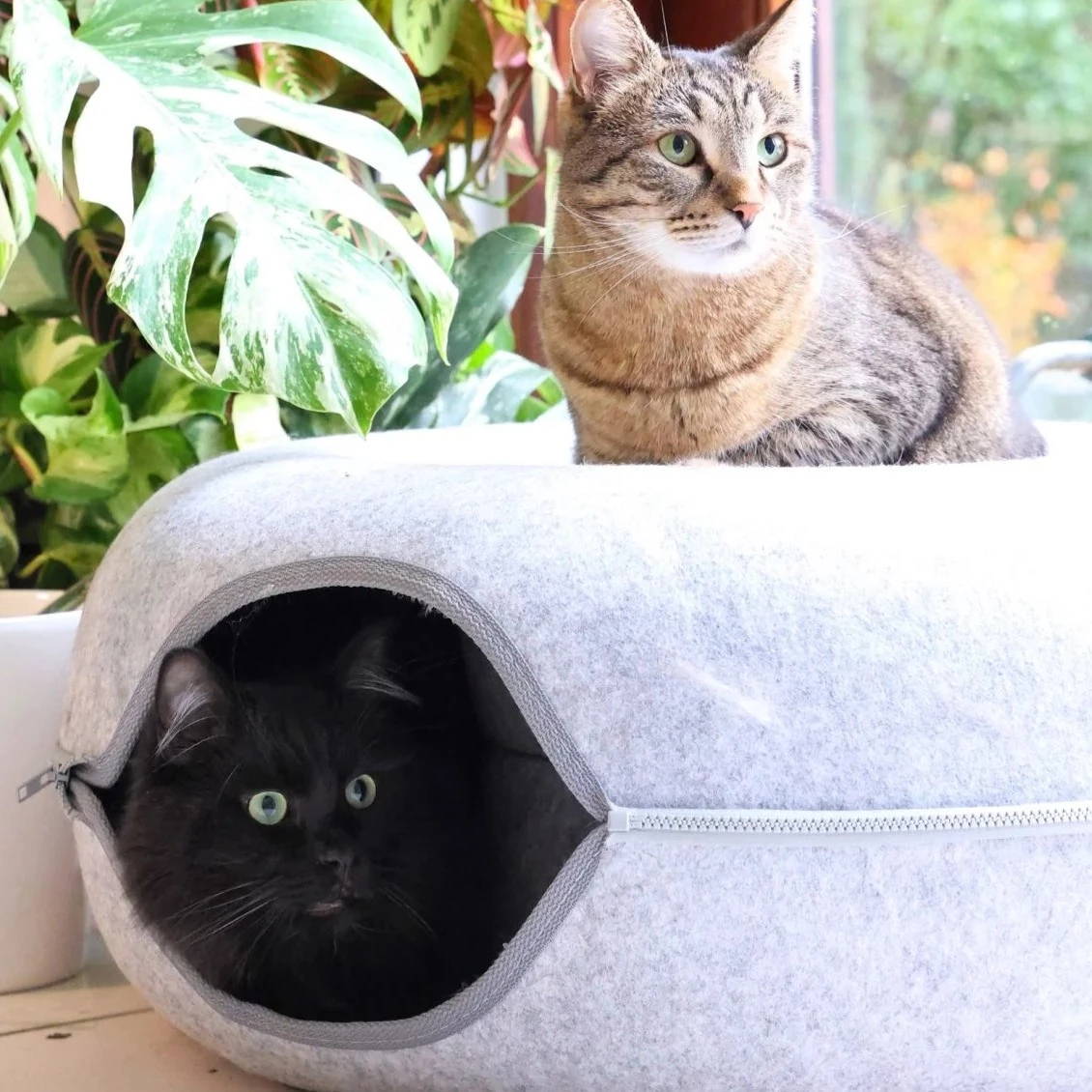 Saves Valuable Space
In Your Home
The Cozy Cat Tunnel Bed combines a cat cave, tunnel and cat bed into one fun and versatile design. The Cozy Cat Cave Bed allows multiple cats to hide, play, and sleep together, maximizing space and providing endless hours of entertainment for your feline friends. Made with high-quality, durable materials, this multi-functional cat donut bed is built to withstand even the toughest playtime sessions. With its unique design, your cats will have the freedom to explore and play in different ways, helping to improve their overall physical and mental well-being.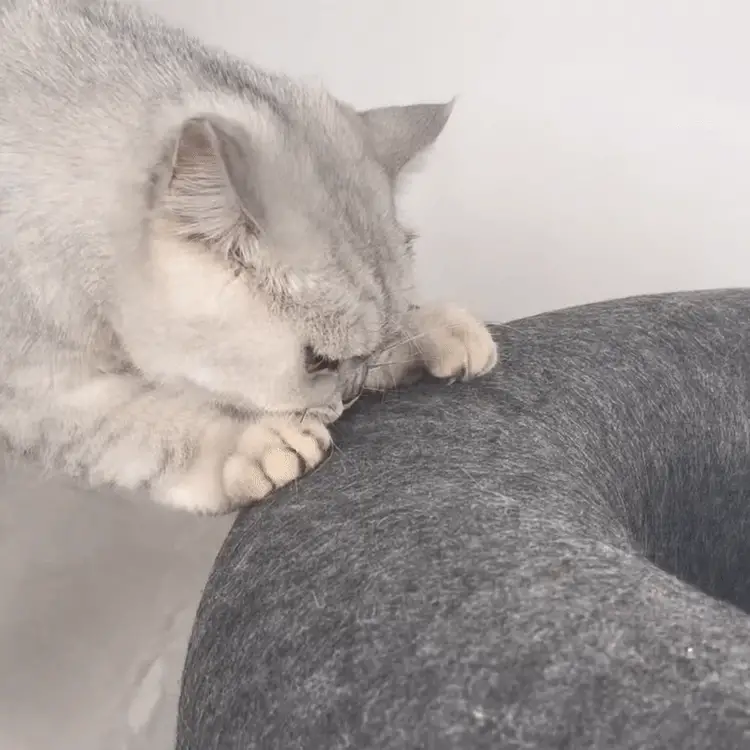 Say goodbye to scratched up couches and chairs! The Cozy Cat Tunnel Bed features a scratch-resistant felt exterior, providing a safe and durable surface for your cat to play, scratch, and lounge on. With this product, you can rest easy knowing that your furniture is protected from your cat's claws. Plus, it's incredibly easy to clean and maintain, making it a smart investment for both your cat's and your furniture's safety.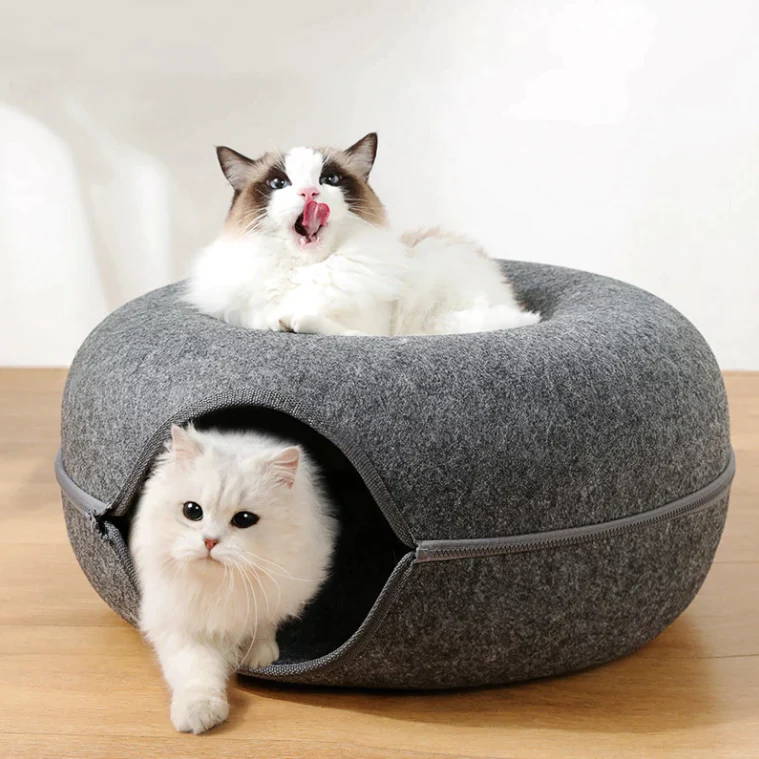 At Wonderly, we're confident that our Cozy Cat Cave Bed is the world's most versatile, fun, and comfortable cat bed. We believe that you and your cat will love it. That's why we offer a 100% satisfaction guarantee. If your cats aren't completely thrilled with their new bed, we'll refund your money with no questions asked. Most pet brands don't allow returns once the product has been used, but we want you to feel confident in your purchase and try it risk-free."
Both my cats can fit inside at the same time on each side and one of them could snuggle in on top if they want. They can't really wreck it because it's a super structured felt so it's kind of indestructible. Would 100% recommend. Also the light grey is great for not showing the amount of cat fur on it.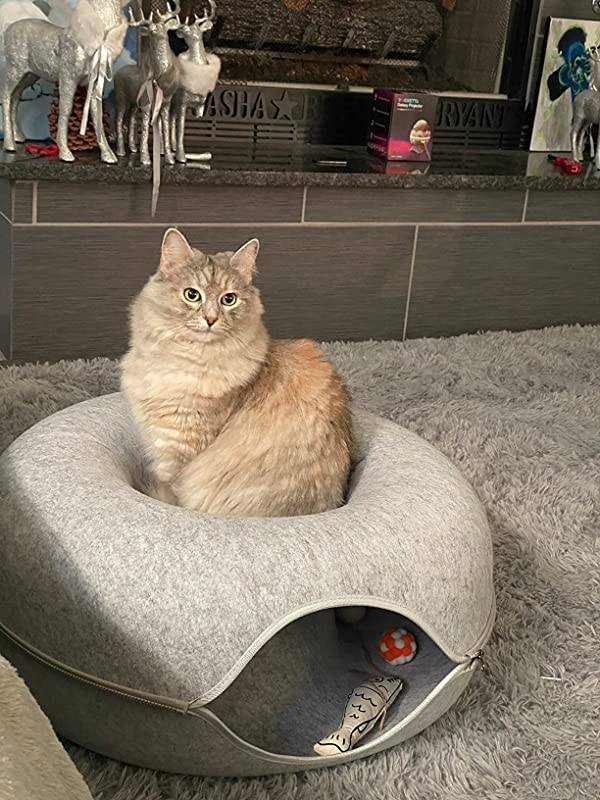 Save your furniture buy this my cat loves it. Bought one for my daughter's cats

Bob and LuLu love their "donut" and when they aren't playing, they are sleeping - one on top and one inside. Such a joy for all of us!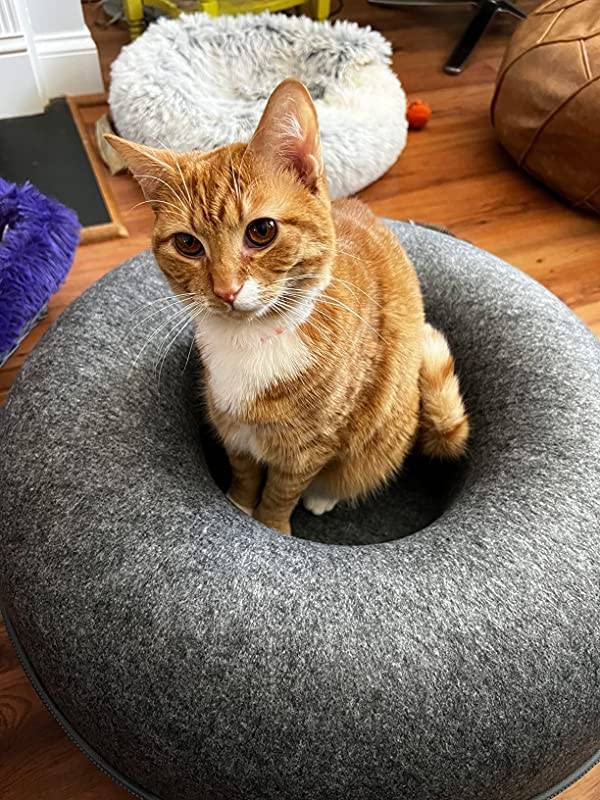 As soon as I opened the box , my cats zoomed right into it. They absolutely love this cave. I'm sorry I didn't buy it sooner. Fantastic product!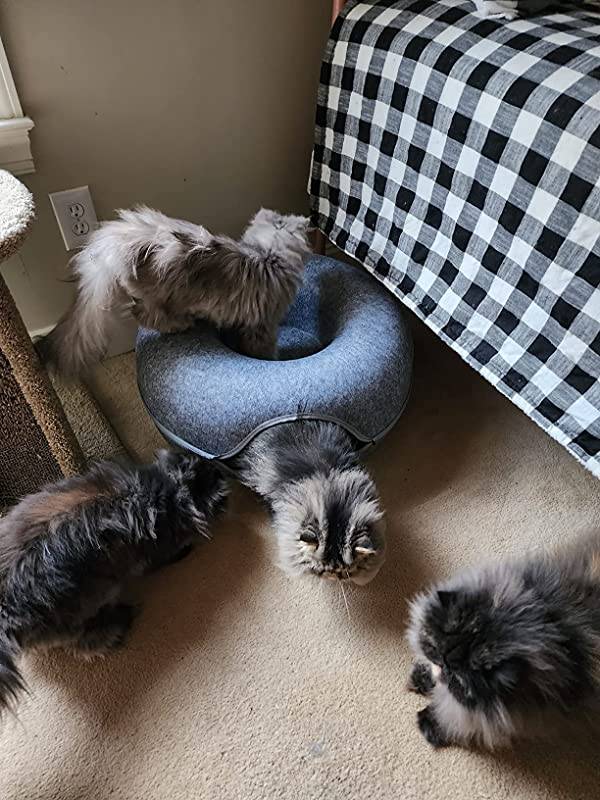 I have 8 cats of various ages and ALL of them love playing and sleeping in and on this cat cave. It's so much fun to watch them running in and out of it, and playing all over it. It's very entertaining for all of us and I would highly recommend it to any cat owner!.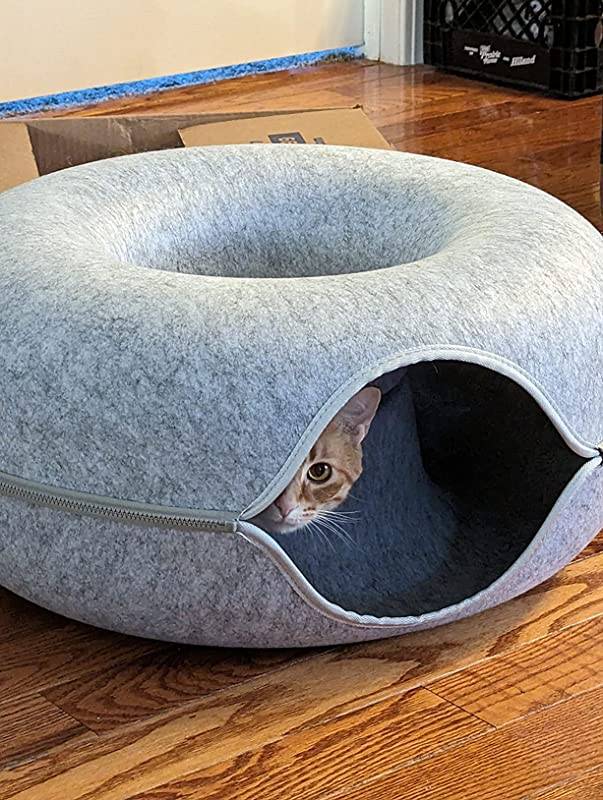 Both of my older cats love this little "cave". I added some catnip flakes to back to "entice" them to get into it and VOILA! Instant playtime! I took pictures and publised it online and some of my friends wanted to buy one too.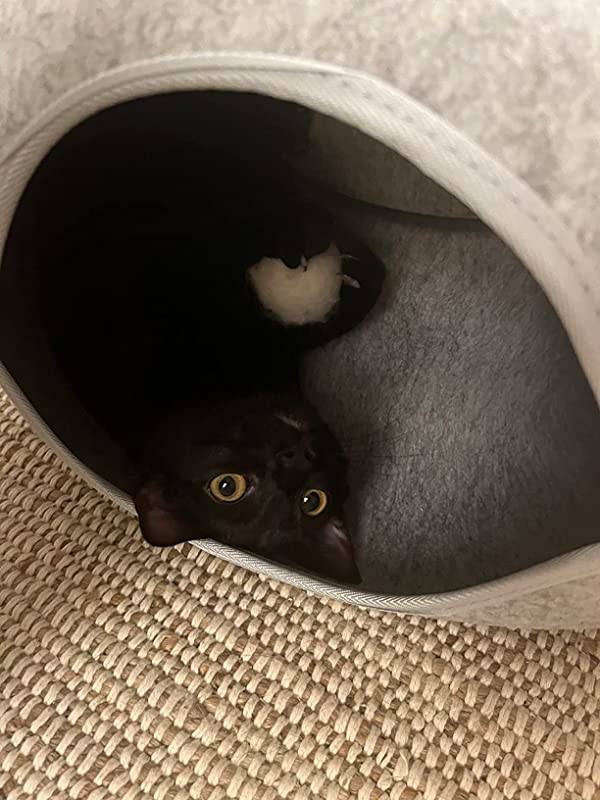 As soon as I opened the box , my cats zoomed right into it. They absolutely love this cave. I'm sorry I didn't buy it sooner. Fantastic product!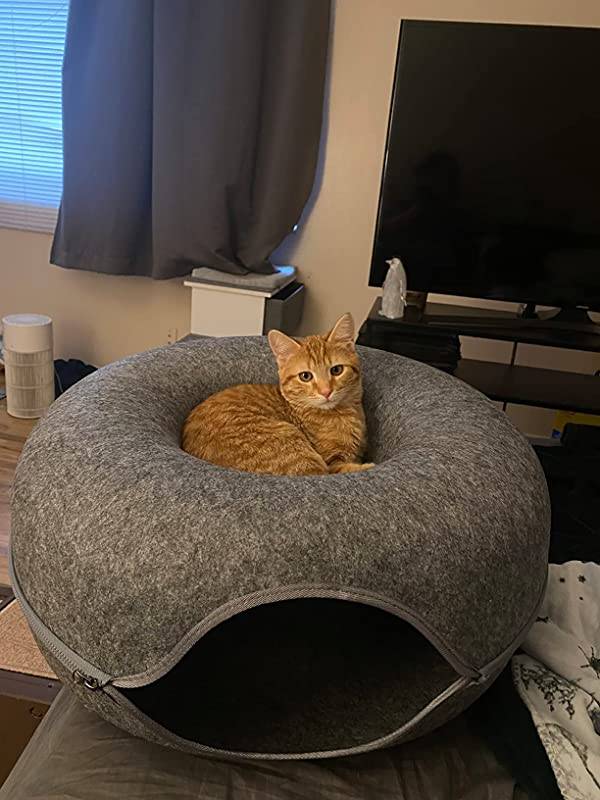 I purchased one a few months ago. My cats love it so much that they were fighting for it. I had to get another one. Everyone is happy.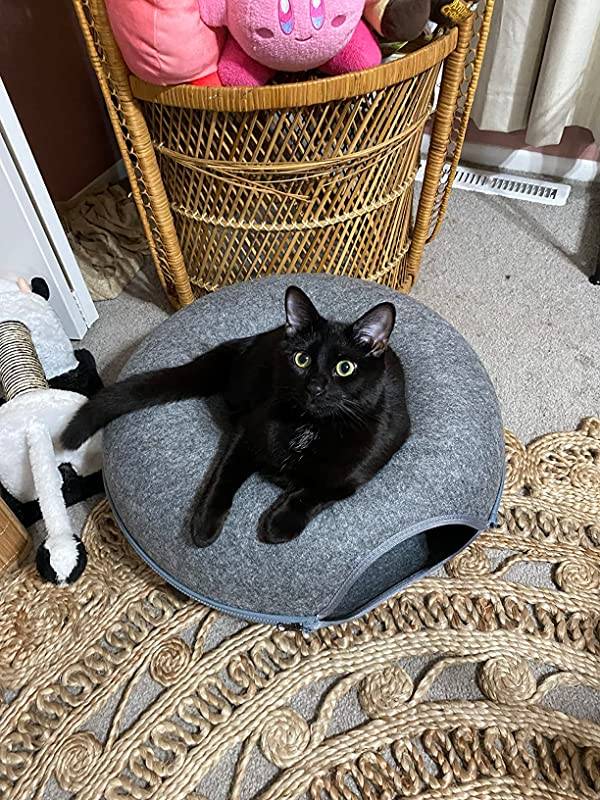 My cat is obsessed with this thing!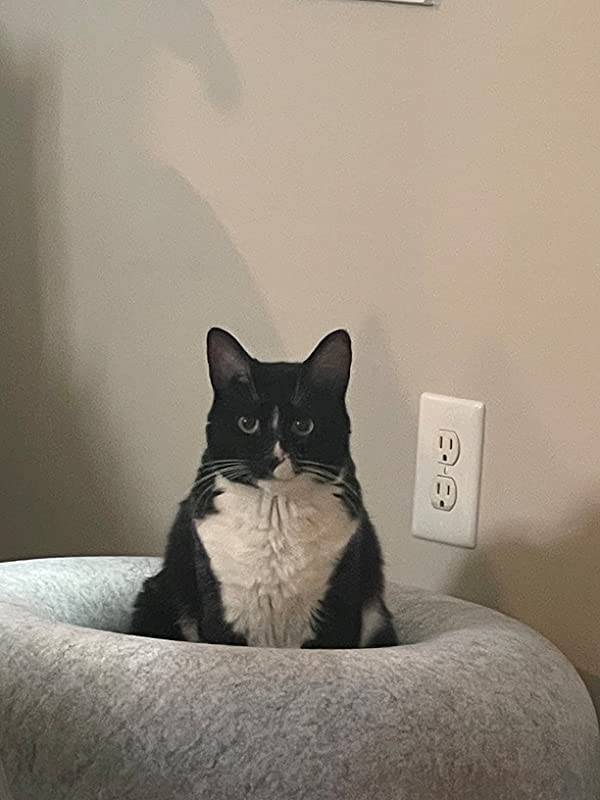 Just gave away two cat beds that were never used,.. decided to give this one a try anyway. My senior baby loves it,. 😅.. she gives this 5 ⭐⭐⭐⭐⭐.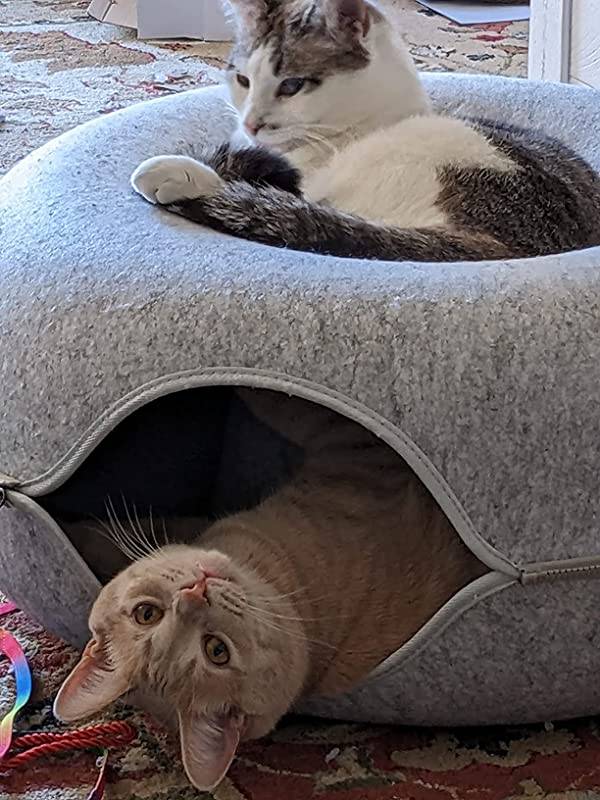 So I ordered the large because I have two young medium cats and who knows how big they'll get in the future. This bed is well built, so freakin easy to zip together. These pics were taken just as I zipped it up and put it on the floor…immediate love.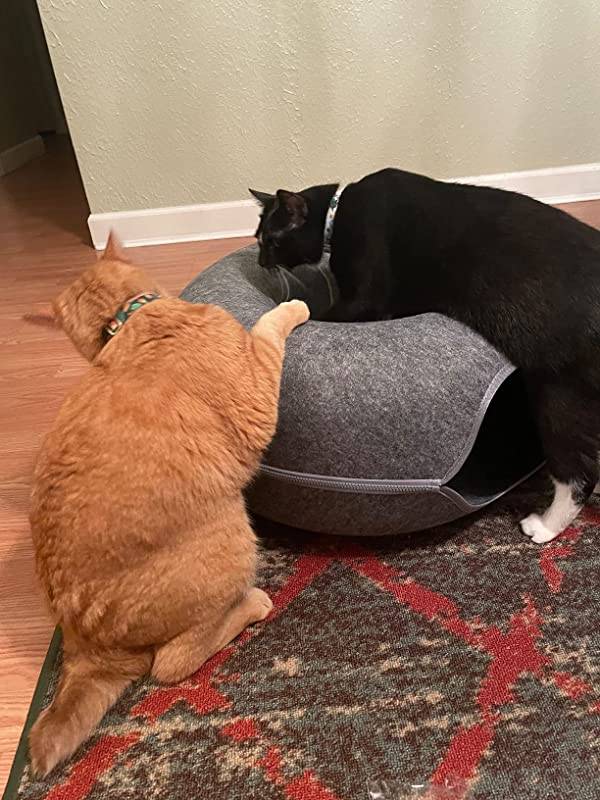 My two cats love this. It makes hide & seek and wrestling just so much more fun for them. Both have gone inside (although not at the same time). And napping on top of it is now one cat's favorite hobby.